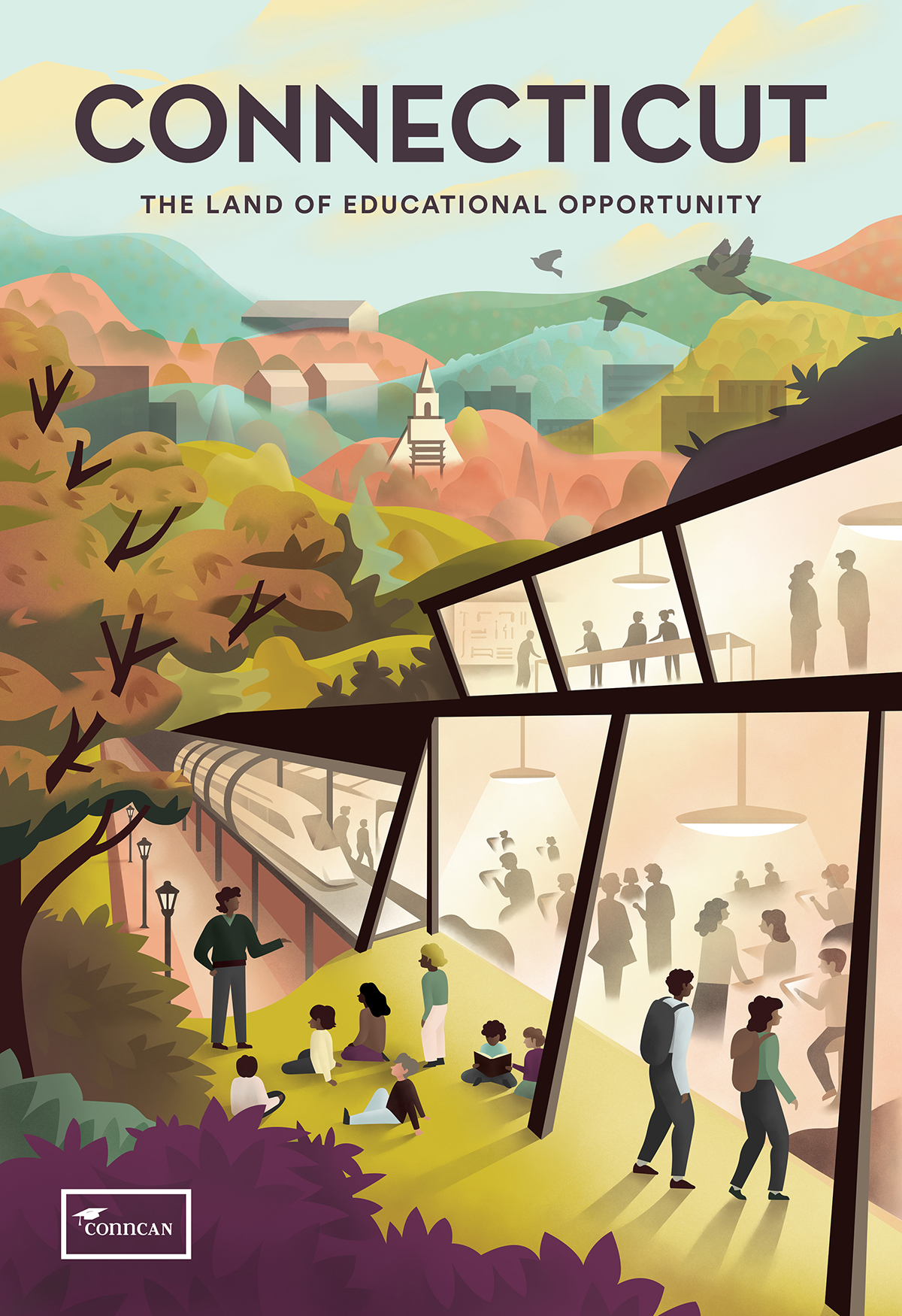 Our journey
Settled along the Atlantic Ocean, at the intersection of Massachusetts, Rhode Island and New York, you'll find a small but remarkably diverse state—one known best for its deep roots in the American Revolution and rich with the potential to lead our nation again. A trip through Connecticut reveals a sweep of quaint New England charm, from the monuments of our colonial past to cities that buzz with renowned arts and culture. But look again: the true landmark of The Constitution State is the bold opportunity to reignite its revolutionary spirit and pioneer a public school system that empowers every child to make history.
Can you see it? Those bright rays of endless possibility are just over the horizon. Let's travel there together, to the future of education in Connecticut. It starts with a celebration of strides we've already made toward the promise of great schools for all:
➊  More students are graduating from high school than ever before, including teenagers from low-income homes.1,2
➋  Our high school graduates outpace their peers in almost every other state on AP exams—from performance growth over time to exam scores themselves.3
➌  Fewer kids are missing school on a long-term basis, which means they're getting a more consistent education.4
➍  Students and their families have more school choices than ever, and Connecticut public charter and magnet high schools are among the most successful in the nation.5
Yet for too many students, zip code and family background still determine educational opportunity. And in today's world, standing still means we're falling behind. To arrive in a Connecticut of excellent school choices, cutting-edge innovation and well-deserved pride in how we prepare our kids for tomorrow, we must harness our unique features in pursuit of life-changing education. Together, let's prove that our land of steady habits is still revolutionary.
1 Connecticut State Department of Education, "Four-Year Graduation Rates," EdSight.
2 The Office of Governor Dannel P. Malloy, "Gov. Malloy Announces Statewide Graduation Rates Increase for Sixth Year in a Row, Reach Record High."
3 Connecticut State Department of Education, "The Condition of Education in Connecticut 2015–2016," pp. 29.
4 Connecticut State Department of Education, "All Students in School & Engaged!"
5 U.S. News & World Report, "Best High Schools in Connecticut."
Our voices
Before our travels began, we listened carefully to the voices of our community. We spoke with hundreds of community members, students, teachers, parents and local leaders across the state. Here is what we heard about how we can better serve Connecticut's children.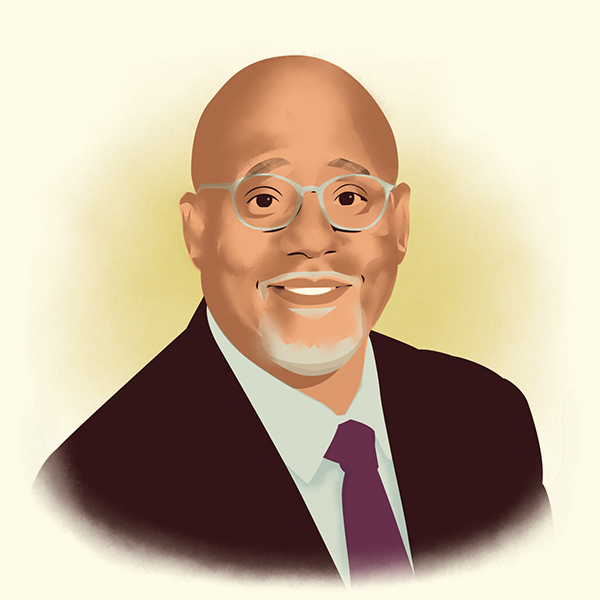 Rev. Lindsay E. Curtis
"The best people to begin to answer the questions about our public schools are members of the business community. They know the skill-set our students will need to be top-notch employees and to compete in the workplace of the future. Our children must have strong cognitive skills and a creative approach to problem solving—and today, they must be fluent in technology. Schools making strides are the ones we see embracing science, technology, engineering and math and partnering with local industry to teach our kids real-world lessons."
Rev. Lindsay E. Curtis is a Norwalk resident and longtime advocate for education. Over the years, he has run many out-of-school programs for city students, including a STEM camp. Among his many community roles, Rev. Curtis presides over the Connecticut State Missionary Baptist Convention and serves on the boards of Norwalk ACTS and the Urban League of Southern Connecticut.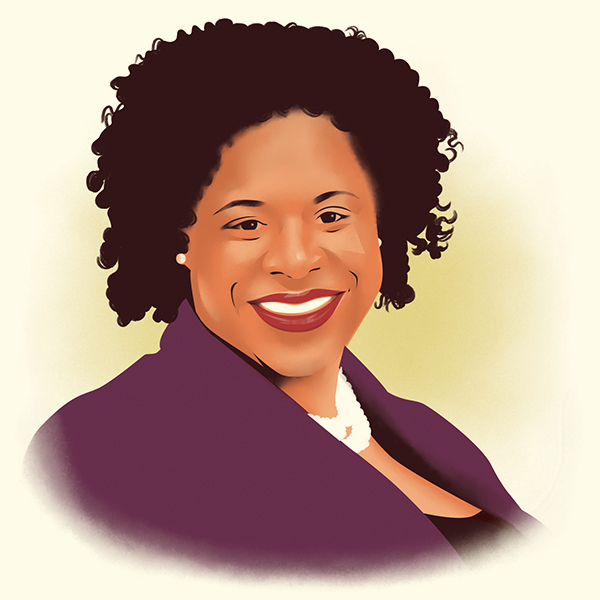 Sarah Lewis
"Teaching is difficult. It's challenging. We have so much time with our children in the classroom—in a given day, more time than they're spending with anyone else—and that's a powerful gift. It can be used or misused. Our mission is to help children grow into who they want to be and to be incredible at it. We need to keep the content level set to a high bar while loving our students through the journey of their education."
Sarah Lewis is the principal of Amistad Academy Elementary School in New Haven. She holds a bachelor's in English and a master's in education from Hampton University, and has taught in private, traditional, magnet and charter schools. She has been a member of the National Alliance of Elementary School Principals, the Association of Educating Young Children and the National Alliance of Black School Educators.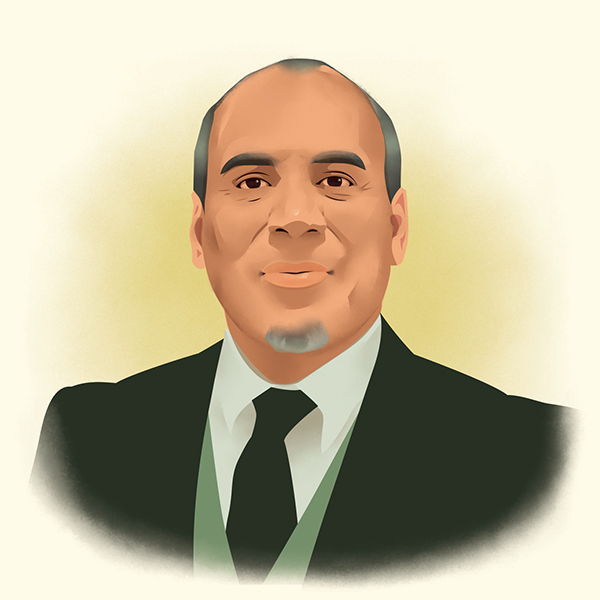 Pr. Abraham Hernandez
"An in-depth understanding of every student is key because external factors directly influence and impact a child's ability to learn in the classroom. Unless we are familiar with their needs, we can't effectively address and serve the child holistically. Makeup of the home matters—if a child is being raised by a grandparent, a single parent or lives in a foster home… Too often we overlook these factors, but if more attention was paid to them, we'd be more culturally sensitive."
Pastor Abraham Hernandez is vice president of the Northeast US region of NHCLC: the National Hispanic Christian Leadership Conference. At the helm of its Faith & Education initiative, he delivers regional, bilingual workshops for clergy and parents in education policy and advocacy. Pastor Hernandez has led social movements for more than 15 years, from health care to education equity.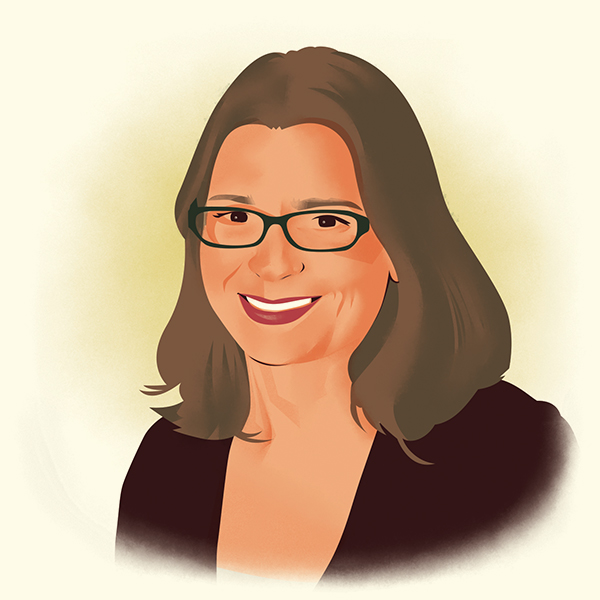 Julie Corbett
"To establish greater equity in educational outcomes, we must focus on what's ahead for all our students—their ability to establish a career, run a company or simply earn a living. That includes students without the opportunity, desire or financial means to go directly to college. They deserve enhanced vocational, apprenticeship and training programs. Increased partnerships between education and commerce would change the way we deliver this kind of education and has strong implications for the state's long-term economic health."
Julie Corbett is a Norwalk parent and school board member who supports education advocacy efforts through her firm, Corbett Education Consulting LLC. Julie conducts peer review, publishes resources and facilitates workshops for state education agency staff across the country. She serves on the leadership team for the Center on School Turnaround.
Our guiding stars
Long before the first settlers came to Connecticut, Native Americans used the compass points of nature to travel these lands. Grounded in that same sense of possibility, we will use these four guiding stars to set goals for the future of education in Connecticut.
Innovation
The world is changing in bold and dramatic ways. We must embrace the challenge, providing our children with an education that keeps pace. Our students must be agile and creative as they encounter jobs and technologies that have not yet been invented. Our schools must be agile and creative, too, using new technology and finding greater efficiencies to provide students with a personalized education.
To reach this destination, we will embrace our revolutionary spirit by fundamentally reimagining how our education system works—from staffing and budgeting to organizational structures—so every student may travel a unique pathway grounded in the principle of endless discovery. These innovative systems will enable our students to envision their own bold futures, as leaders in our state, our country and the world.
Equity
Where our children are born, how much money their parents make or the color of their skin should not predict their academic success. Our education system of the future must right the wrongs of structural inequities upon which our current system is built and embrace the unlimited potential in every child.
To reach this destination, we will need to level the playing field by providing educational opportunities for all—inside and outside of our schools. That means prioritizing diversity among teachers and school leadership, funding each student's education based on their needs, creating rich educational experiences beyond school walls and investing in accountability systems that empower families to ensure the best for their children.
Options
No two Connecticut children are the same. The educational pathways we offer students should complement their distinct identities. By creating more high-quality options—each with a different model and unique emphasis—we can provide every child with a foundation for future success while making their classroom experience personally enriching and relevant.
To reach this destination, we will create opportunities for students and families to explore a rich array of possibilities, and exercise their agency to choose what really meets their needs. By expanding successful models and reducing barriers to access, we will create a new generation of students engaged in the learning experience—in turn creating an engaged citizenry that's ready to push Connecticut forward.
Excellence
The bar for excellence in education keeps rising. We must welcome this challenge to ensure that our kids thrive in this changing world. The first step forward is believing that all students can reach the bar that we set for them. By aiming high we can ensure that excellence is woven through all our educational endeavors.
To reach this destination, we will embrace rigorous standards in all our subjects. We will reimagine assessments to better serve students and teachers. We will celebrate and elevate educators as the individuals and professionals they are. We will empower parents and families to serve as advocates for their children and hold us all to these ambitious goals.
Our vision
The invisible boundaries that divide our state will not slow our journey to the future of education. Instead, we will draw a pioneering new map that makes history. We envision a Connecticut that redefines public education as a process of discovery unfolding across our communities. In this future, we are all engaged as teachers and role models for every child in our schools—and we see endless potential for lessons in our diverse landscape.
We know that right now, in classrooms in every corner of our state, there are leaders in the making: a young social activist like Harriet Beecher Stowe or Charlotte Perkins Gilman; a student whose family immigrated to America and who wants to lead their community, like Ella T. Grasso; an industry trailblazer like Eli Whitney, Arthur Williams Wright, Igor Sikorsky or Alfred P. Sloan. We will invest in their education and provide the space for their genius to flourish so they can create a better life for all of us who call this land our home.
Our history is rich with examples of young people who succeeded against the odds because of great opportunities to learn from the world around them. There is no limit to our kids' potential if we believe they can make history, too, teaching them in school classrooms and the broader classrooms of our communities.
We are charting the path to a future where:
➊  Students are at the center of all education decisions.
➋  Families are empowered to create customized educational journeys for their children, supported with real-time transparency and next-generation accountability for results.
➌  Communities are engaged as true partners by enlarging the sphere of public education to support all the ways, and all the places, kids learn inside and outside school walls.
➍  Students from all backgrounds and every part of our state graduate with rigorous and relevant experiences that ensure they thrive in, and lead, our diverse communities, economy and world.
A student's educational journey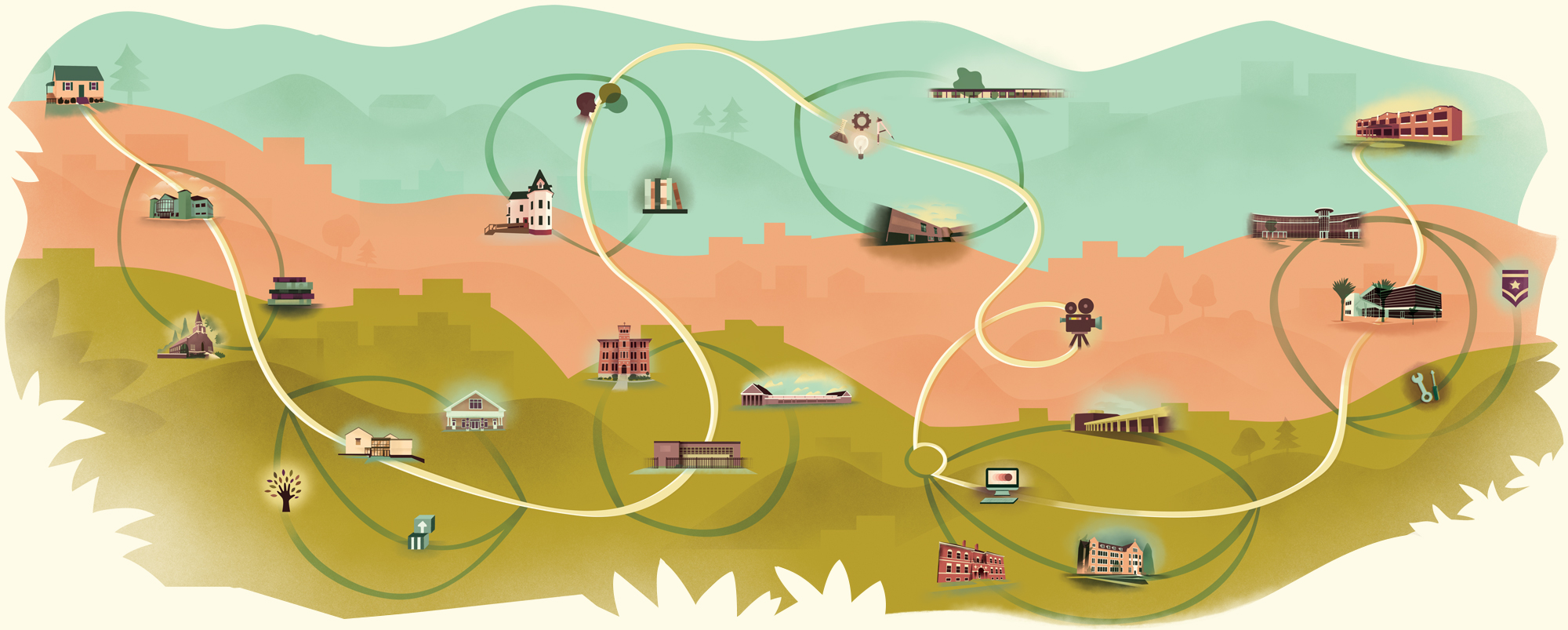 How will Connecticut students and families navigate the public education system of the future? How will that future look, and where will children be able to learn? Follow along with Sebastian and his family as they choose their own educational adventure.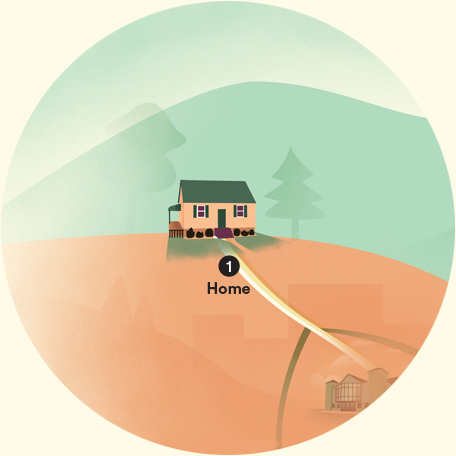 Home
Sebastian grows up in Danbury as part of a family that immigrated from Brazil.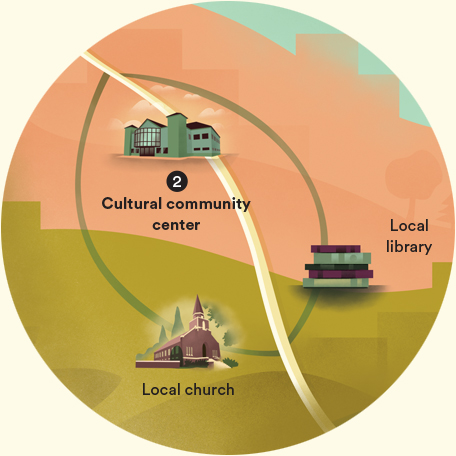 Cultural community center
Sebastian spends time at his local cultural community center while his parents are at work.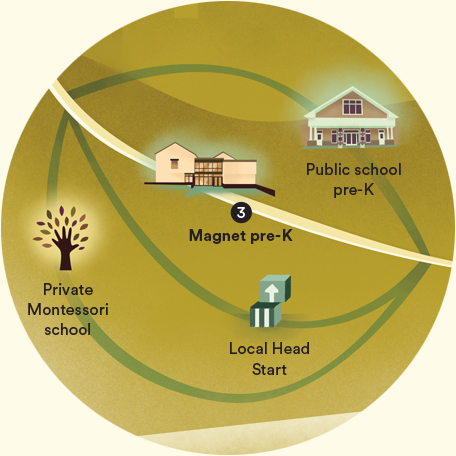 Magnet pre-K
Sebastian's parents choose an arts-based magnet pre-K run by a contemporary art museum a few towns over.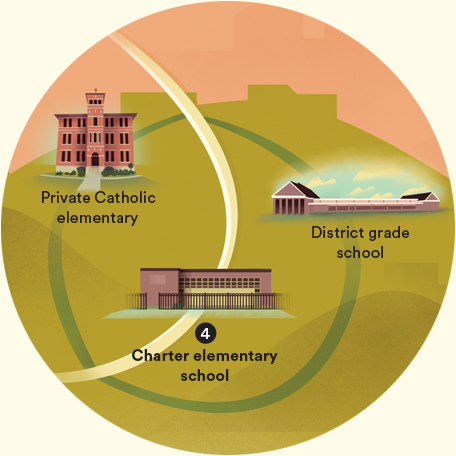 Charter elementary school
A local charter public school partners with Yale University for an arts- and civics-based program, and Sebastian is accepted.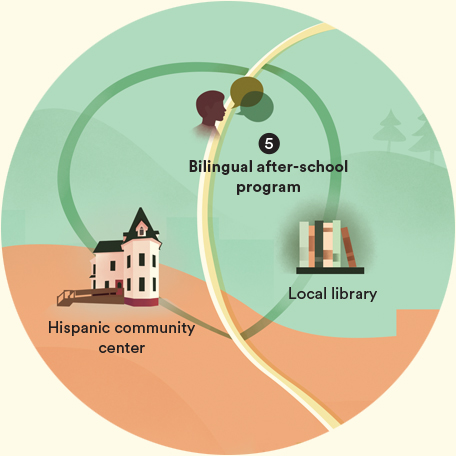 Bilingual after-school program
Sebastian attends a bilingual after-school program at the free hackerspace he's visited since childhood, and learns to make stop-motion films.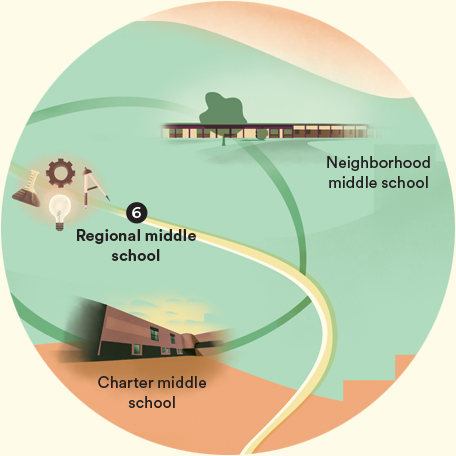 Regional middle school
Sebastian attends a regional middle school because of its strong STEM program, including courses in coding and computer animation.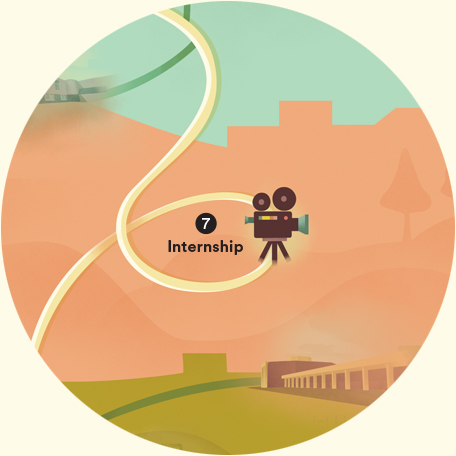 Internship
In high school, Sebastian interns at NBC Universal and uses his capstone project to document the Hispanic and Latino communities in Connecticut. The art museum where he attended pre-K holds a screening for the community.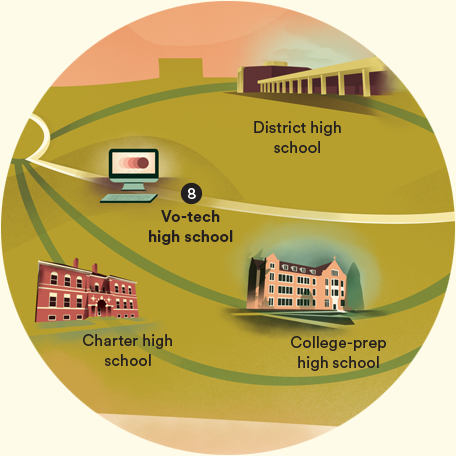 Vo-tech high school
Sebastian chooses a Danbury vocational school with a grant-funded media lab and advanced computer animation. He works after school and starts a club for experimental docu­mentary making.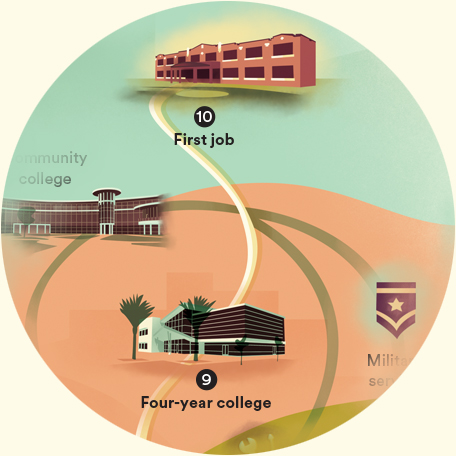 Four-year college
Sebastian attends a four-year film school in Los Angeles where he develops his craft and gets involved with local Hispanic and Latino community centers to volunteer with children and make a capstone documentary.
First job
After his graduation, Sebastian releases the film to raise money for community centers across the city. He moves back to Connecticut and takes a job on the media team of a global humanitarian organization headquartered in Stamford.
---
10,368 options
Sebastian and his family could have navigated this map 10,368 different ways to customize his education. The map represents only a small fraction of the total choices available to them.
Measures of success
We hope this journey into the future will provide both vision and guidance so Connecticut can emerge as the national and global leader in providing educational opportunity for all. We want the "Connecticut Model" to serve as an example for communities and countries around the world. While our four guiding stars provide us with a uniquely Connecticut vision of change, we also know that we must track our progress against other states. To do so, we will use 50CAN: The 50-State Campaign for Achievement Now's four dimensions of a healthy and dynamic learning system:
Community → Effective, sustainable policy change requires strong relationships, real-time feedback and long-term ownership by the people served.
Competition → Greater responsiveness and better outcomes are more likely when people have the power to choose among multiple options to meet their needs.
Performance → Success requires both the flexibility to pursue excellence and rigorous standards to ensure those serving the public are held accountable for their results.
Pluralism → Diverse populations are better served by dynamic systems that support lots of paths to success and embrace different traditions, values and beliefs.
Below you'll see how we currently rate ourselves in each dimension. These ratings use 50CAN's four-point scale. We also outline next steps for our future progress.
Community
(2 point out of 4)
There is a strong desire among community leaders and parents throughout the state to engage with our education system. We should ensure efforts to reach families are robust, comprehensive and actionable. We must also increase efforts to recruit and retain a teacher population that reflects the community it serves.
Competition
(2 point out of 4)
We offer several school options, but structural barriers and inequitable funding systems significantly limit their enrollment capacity and expansion. We must ensure parents are both aware of all options and easily able to enroll their children in high-quality schools that best meet their needs.
Performance
(2 points out of 4)
As a state, we have invested in rigorous standards and an aligned end-of-year assessment. We can do more, however, to ensure families understand the results of this assessment and that our lowest-performing schools are held fully accountable for their results.
Pluralism
(2 points out of 4)
We have made some prog­ress in developing a variety of educational programs. However, we must ensure that the number of schools and the amount of students permitted to attend are not limited, and that we support multiple pathways to success.
Click here for an in-depth look at these measures of success, and to track our progress along our journey.
How to get involved
Founded in 2005, ConnCAN is leading an advocacy movement to ensure that all kids in The Constitution State have access to a high-quality education, regardless of their address. By working with communities and conducting research, we endeavor to change state and local policy to make that vision a reality. ConnCAN is a branch of 50CAN: The 50-State Campaign for Achievement Now.
Guided by our commitment to promote student-focused policies, we aim to mobilize students, parents and community members to ensure all children have equal opportunity and access to an excellent public education. Here's how you can join us:
→ Continue your journey online. Want to learn more about education in Connecticut? Visit conncan.org and sign up for our emails to stay in the know.
→ Share your ideas. How can Connecticut aim high in education? Share a post on social media with the hashtag #KidsCAN.
→ Start the conversation. We would love to hear from you and talk more about working together. Email us at info@conncan.org.
→ Join the campaign. We would love to help you get involved. Text "ConnCAN" to 52886 to sign up for updates on education advocacy opportunities across our state.
Together, we can build an education system worthy of the immense potential of all our children.