This morning, ConnCAN and the rest of the country awoke to results from the 2017 National Assessment of Educational Progress (NAEP). Overall, the assessment shows largely stagnant results that challenge everyone in our state to consider what it will take to reignite student growth and true innovation and progress in our education system. The results give us reason to hope, though, from slightly narrowing achievement gaps to consistent reading performance and long-term gains in math.
As we reflect on where we need to grow, these bright spots deserve our attention and can be guiding stars for how we take our state from the land of steady habits to one of dynamic student growth and success.
Last week, we posed four critical questions to frame our analysis:
Is our state improving over time?
Are our students ready for the 21st-century economy?
Have we been successful in closing our state's achievement gaps?
Is Connecticut setting itself up to attract top jobs and opportunities nationwide, and among our neighboring states?
Let's tackle these questions today, looking at our latest results on the Nation's Report Card and 20 years of NAEP data.
Is our state improving over time? It's complicated.
First, the good news: Connecticut's fourth- and eighth-grade students continue to outperform their peers across the country in reading, with this year's results seven-to-eight points higher than the national average. In math, eighth graders scored higher than the national average by a more modest two points, while fourth grade scores were in line with the average.
What demands our attention? As national averages gradually increase for fourth and eighth graders in all subjects, Connecticut is at real risk of falling behind. For example, Connecticut's reading scores have remained largely stagnant since 1998, while national students have seen achievement growth during the same period of time. Additionally, our math scores have only seen modest movement, with eighth-grade scores up by three points since 2000 and fourth-grade grade scores up by five points in the same period of time.
The chart below, taken from NAEP's "Snapshot Report for Connecticut" on fourth-grade  math shows that our scores have fallen since 2000, from well above the national average to on par with it.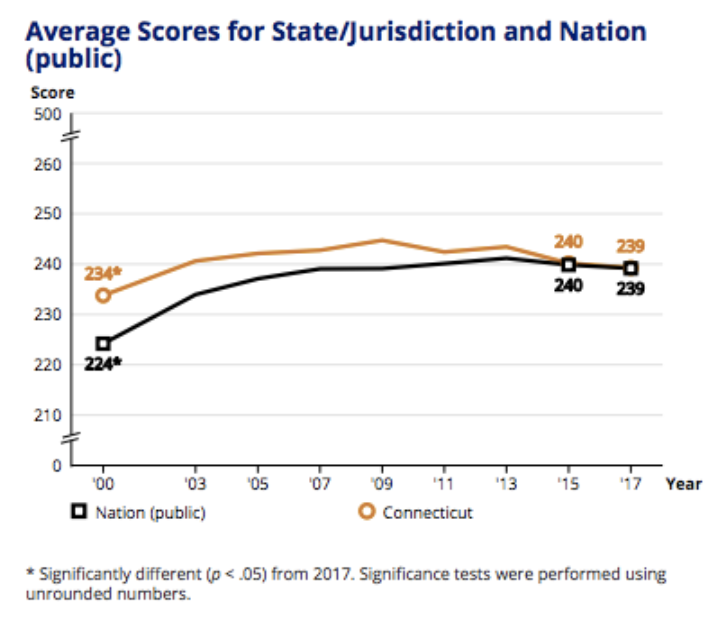 We know that eight in 10 of Connecticut's fastest-growing careers for those who carry a bachelor's degree also require a deep knowledge of science, technology, engineering and mathematics (STEM)–yet only four in 10 of our fourth-grade students were able to demonstrate STEM proficiency in 2017.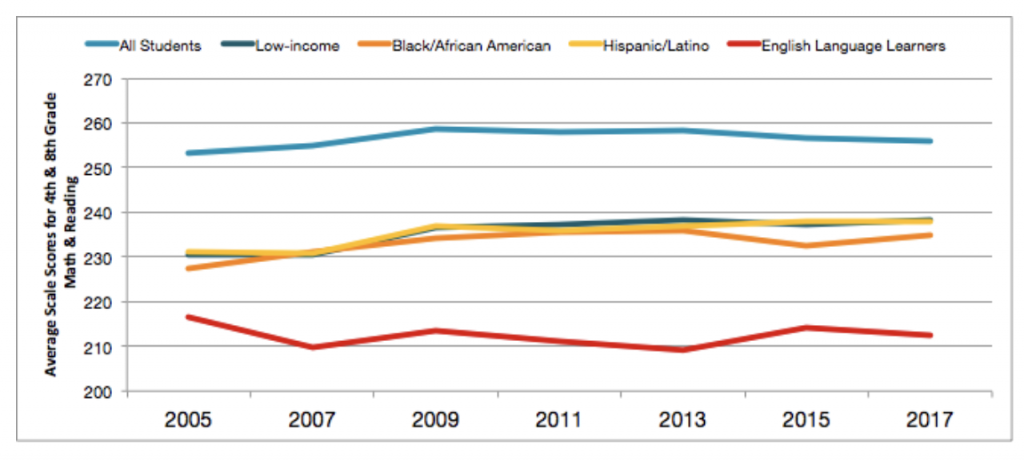 The results above give us hope–and clear evidence–that improvement is possible. We know we are doing something right. We just need to work harder to to energize our education system to outperform, or at least keep pace with, national growth.
Have we been successful in closing our state's achievement gaps? Mixed results–but change isn't coming fast enough.
A review of NAEP results from 2005 to 2017 shows that three of Connecticut's four most persistent achievement gaps are closing. We must accelerate this progress so we don't leave behind generations of students as our state grapples with this inequity, and we can take inspiration from seeing first-hand that progress is happening across our state.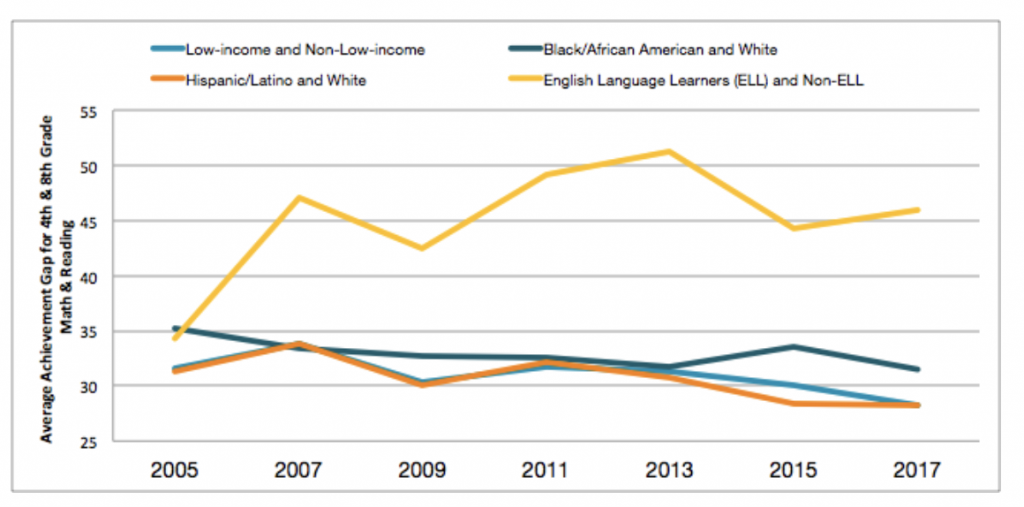 One particular bright spot is fourth-grade reading, where achievements gaps closed by seven points for black students, five points for Hispanic/Latino students and English Language Learners and two points for low-income students from 2015 to 2017.
Still, at the rate of progress revealed by NAEP data spanning 12 years, it would take Connecticut almost a century to close all of our state's persistent achievement gaps.
Our kids can't wait that long.
Years to Close Achievement Gaps (2005-2017)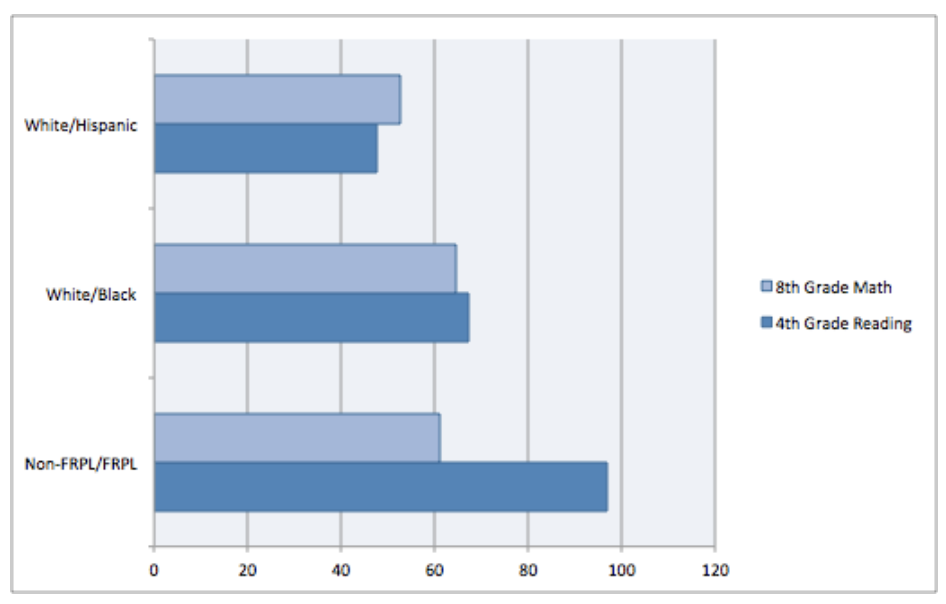 (ELL data is not included in this chart as the achievement gap grew during the 2005-2017 time period.)
Is Connecticut setting itself up to attract top jobs and opportunities nationwide? We need to be doing more.
Connecticut's 2017 NAEP results tell the story of a consistent state, but we already know that in the 21st-century economy, the status quo isn't enough. Amazon has begun visiting the 20 finalist cities for the company's second headquarters–and unsurprisingly, these are cities known for innovative, dynamic public school systems:  Denver, Nashville, Chicago, Washington D.C., and Newark, N.J., to name a handful.
There's no reason Connecticut shouldn't be on that list if we took transformation seriously. Steady habits won't push the boundaries of what's possible in the economy of the future. Neither will an education system grounded in limiting tradition.
The latest NAEP results make it clear that Connecticut has the tools to upend steady habits–and we must learn everything we can from the narrowing achievement gaps, our consistent reading performance and our modest long-term growth in math. What's working? How can we make it work for more kids, more quickly and with greater impact?
In the next decade, our state will grapple with tough questions about our economy–and while it may be working well for some today, it won't work best for anyone if we don't prepare every Connecticut child to lead in the new world. Education is the wellspring for a highly-qualified, passionate and inventive workforce; creates an attractive environment for new industry and business; and ensures the prosperity of our state.  
We'll take a deeper dive into 2017 NAEP data in the coming week, and we hope you'll follow along. We'll also continue to identify and rally behind  policy changes that carry the great potential to bring Connecticut the burst of energy we need to tackle education issues on the horizon. The future depends on it.