Statewide Outreach and Advocacy Manager
Toni was born and raised in Vicksburg, Mississippi, before moving with her family to Norwalk, Connecticut, when she was 7 years old. She considers herself a Southern girl at heart, and she learned early on from the strong women in her life that proponents for enduring change aren't fearless—they face their fear and keep moving.
Prior to joining ConnCAN, Toni planted strong roots in advocacy as the first director of diversity at Greens Farms Academy, a K-12 independent school, and then as assistant dean of Students for Multicultural Affairs at Miss Porter's School, an all-girls boarding high school. Over the course of her 20-year career in education administration and personnel diversity, she has also served as a founding member of the CT Commission on Diversity in Independent Schools (CODIS); the design team for the first CODIS Student Diversity Leadership Conference; the liaison for the Oprah Winfrey Foundation's Prep School Scholarship; and an advisory team member to the NAIS Vice President of Equity and Justice.
As the State Outreach and Advocacy Manager for ConnCAN, Toni oversees community engagement from Norwalk and Hartford to New London and beyond. She is proud, honored and excited to build systems of youth empowerment in partnership with parents, students, teachers, community leaders and the public sector.
"I find meaning in bringing people together to explore how oppression functions in their lives, and how they might confront oppression by exploring, and committing to, different possibilities."
I aspire to be like Marian Wright Edelman:
One of my favorite quotes from the president and founder of the Children's Defense Fund is this:  "Education is for improving the lives of others and for leaving your community and world better than you found it." Not only do her words resonate, but so do her lifelong actions; she continues to stand as an unflagging activist for the rights of children and disadvantaged Americans. I admire that Marian was a rebel and trailblazer committed to doing what's right even when it's uncomfortable.
Why I love my job:
Improving education is one of our nation's most important opportunities for sustainable positive change. I love working collaboratively with parents, students, teachers and community leaders to demand a world-class education for every child—from every zip code—and to strengthen systems that enable youth to thrive while honoring, celebrating and elevating the value of their diverse experiences.
My connection to public schools:
I come from a family of public school teachers and administrators. Throughout my childhood, my parents instilled in me the importance of education; they saw, and made it clear to me, the benefits that a great public school provides. I attended public schools from kindergarten through high school, and I credit my village of amazing teachers, leaders and mentors for moving me forward in life. As an adult, I served as a board member for Norwalk Communities in Schools, as well, and I'm a proud aunt to my nephew, who attends a public school.   
What I'm bad at:
I'm bad at holding a poker face. A strength of mine is the ability to connect with my emotions to empathize with others, and relate with issues that matter to them. This strength has helped me form and grow abiding relationships within the communities where I work. However, my emotions get the best of me at times. I've been told my "facial gymnastics" can give people a good laugh.
The image that represents my work at ConnCAN: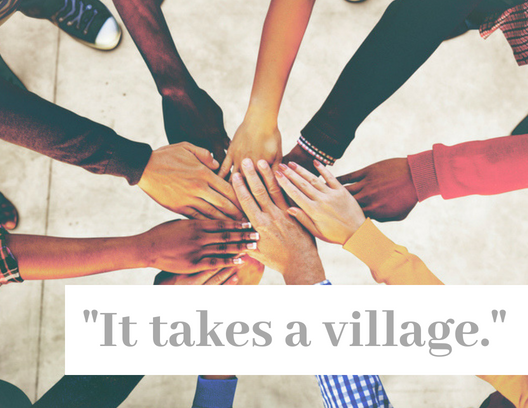 The quote "It takes a village" represents the idea that we are all connected—and we are better together. This image reminds me that I am here because of the generosity of others. I find meaning in bringing people together to explore how oppression functions in their lives, and how they might confront oppression by exploring, and committing to, different possibilities. It has been the joy of my career to identify, recruit, train and empower diverse community leaders to advocate for change in their communities.