Public Affairs Manager
Stephen Sidorak was born in Salt Lake City, Utah, and raised in New Haven and Rocky Hill, Connecticut. The son of two United Methodist ministers, Stephen was active in the church where he developed a keen sense of social justice. He drew his first political cartoon when he was 12 years old.
After high school graduation, Stephen attended Quinnipiac University and UCONN. He went on to earn a bachelor's degree in economics and political science from Charter Oak State College and a master's degree in organizational effectiveness and leadership.
For over a decade, Stephen worked at the Connecticut General Assembly while also managing six successful campaigns for the State Senate. Throughout his career, he has developed relationships at all levels of government and across the political spectrum, and collaborated with local officials, residents and grassroots organizations on education, workforce development and a variety of other public policy issues. Following Hurricane Maria, Stephen worked with school superintendents to ensure displaced children from Puerto Rico and the Virgin Islands were being enrolled in Connecticut public schools. He also helped families navigate the patchwork of services available to them and worked with providers and charitable organizations to support their efforts.
I aspire to be like Jon Stewart. Here is why:
Jon Stewart helped America through a difficult time in our history. His sense of humor simultaneously disarms and informs people. Stewart continues to speak truth to power and fight for what he believes in: something we all must do. He also pushes others to be the best they can be. Education is one of the most critical functions of government, and we must talk to our leaders about it with candor. Uniting to make change requires us to engage in open and honest conversations about what's working, what's not and how we can do better for students.
Why I love my job:
Connecticut has infinite potential. Promoting opportunities that provide students with the skills they need to succeed— now, and in the future—is an important mission. I am proud to support that mission and be part of such a fantastic team. I am young enough to remember what school was like for me and my classmates in Connecticut and old enough to recognize that things have not improved fast enough.
My connection to public schools:
I attended public schools in New Haven and later in Rocky Hill. These were formative experiences with a diverse group of peers and teachers. I was exposed to different learning environments and had opportunities to excel where I could. My childhood in Connecticut also allowed me to view the state from different angles. Working in state government made my understanding of our struggles even more clear. I would not trade my experience for any other. Public schools gave me the chance to see first-hand that we all learn differently—and we all deserve the opportunity to thrive through education.
What I am bad at:
I am bad at not eating pizza once the thought of eating pizza has entered my brain.
This image represents why I work at ConnCAN: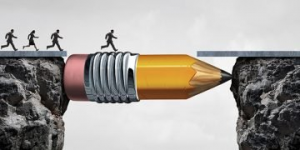 Education provides opportunities, and Connecticut has a duty to provide the best education possible for all of our students. This image represents what I know to be true, and why I work at ConnCAN—access to a quality education is the first step toward opportunities that can improve one's life. Working to provide greater opportunities for Connecticut students to achieve their dreams is work I consider myself lucky to do.